Smart wearables, especially smartwatches, have the potential to revolutionize independent living and elder care among older adults. Given that 20% of septuagenarians own at least one wearable device, that seems like a feasible reality albeit somewhat distant.
But the problem lies elsewhere.
While cutting-edge smartwatches equipped with health monitoring facilities are doing their job, the same cannot be said about the remote monitoring of these devices. What ails the senior smartwatch industry? A simple but crucial issue is a lack of accurate remote monitoring that can trigger ideal responses from caregivers and healthcare facilities.
Remote Monitoring is Inadequate and Inaccurate
The current range of remote monitoring solutions is still not fully adapted to cater to the needs of seniors.
For example, if a senior were to fall or suffer a sudden heart attack, the most a smartwatch can currently do is send a notification and/or flash the location where the incident has taken place. It does not prompt any emergency response (like placing an SOS phone call) that can make all the difference between life and death during a medical emergency.
To give you an analogy, senior smartwatches act like fire alarms. While these devices will send notifications during an emergency, they do not have features that can facilitate an emergency call to required service providers.
Simply put, no matter how soon the fire alarm blares, it is futile if the fire brigade does not arrive on time. The exigency will exist until a time-bound and highly efficient solution is found.
There is an urgent need for precise algorithms that can trigger appropriate responses in smartwatch monitoring systems that are currently in use.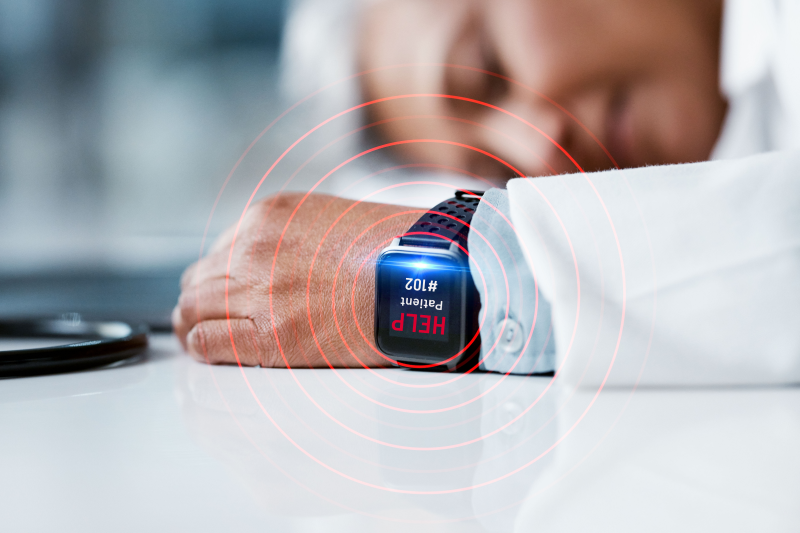 Why?
Because 90% of the elderly population lives at home, in elderly home communities, independent living facilities, and/or nursing homes. And most are not under 24/7 supervision.
The senior smartwatch industry is highly fragmented, and the lack of historical data is partially to be blamed. The other culpable factor is the insufficiency of knowledge and know-how in the field.
Unfortunately for the senior smartwatch industry, these shortcomings will persist, and the application of smartwatches in eldercare will remain underutilized and insufficient, unless effective and efficient sensor algorithms, technologies and AI solutions are implemented.
How Smartcom is Stepping Up the Game with Its Integrated Solutions?
Senior smartwatches equipped with health monitoring sensors have big expectations to meet. Smartcom is implementing innovative changes to its integrated suite of applications, including its companion mobile applications and Platform-As-A-Service (PaaS), enabling cutting edge remote monitoring.
Here's how Smartcom is changing the face of remote monitoring of senior smartwatches:
Enhancing its FiLIP™ Platform-as-a-Service Solution
Smartcom's FiLIP™ IoT ecosystem platform is a device-agnostic and feature-rich suite of programs that allows for real-time location-based remote monitoring. But it's not just any other remote monitoring service!
What makes it unique is the use of multiple real-time data-driven APIs (Application Programming Interfaces). By deploying more APIs backed by specific algorithms, Smartcom can provide precise and result-driven communication for connected adult/senior smartwatches.
While a regular remote monitoring service can only send notifications and location updates to caregivers and medical facilities, Smartcom's additional APIs can do more. This is a game changer for the remote monitoring that Smartcom's high-tech ecosystem offers.
Why?
Because it offers critical additional follow-up services, including fleet monitoring for medical facilities, retirement homes, first-responders, and call centers to aid seniors in emergencies.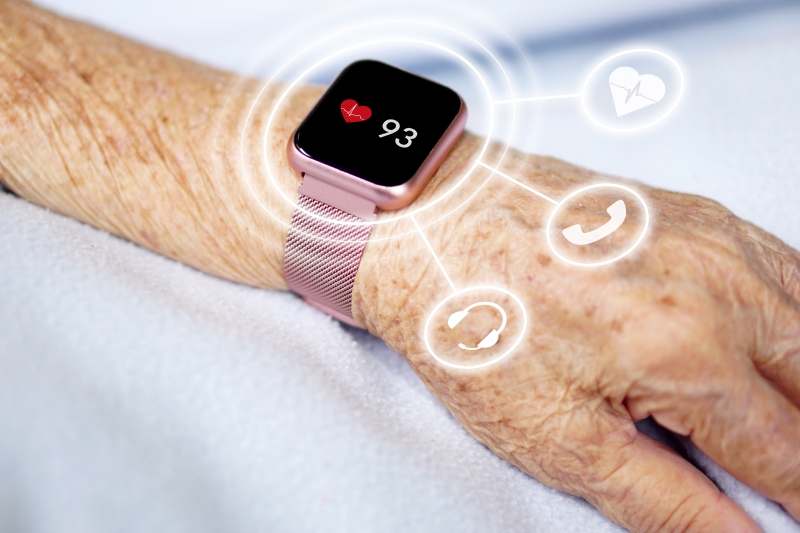 A noteworthy example of Smartcom's API-fortified remote monitoring is how it sends an automated ping to the app if the connected device detects a real fall. It is followed by a no-dial call pick-up service to facilitate timely aid.
In one instance, these features helped caregivers come to the aid of an 89-year-old who fell and broke both her wrists rendering herself incapable of dialing her caregiver. Smartcom's proprietary APIs and intuitive platform was able to place an uninitiated call from the smartwatch to 911 first responders and received immediate medical attention.
Creating Web and Mobile Apps for Monitoring
PaaS aside, Smartcom also provides specialized web and mobile-app-based remote monitoring services. Smartcom is now deploying a web version of its mobile app. This app can be used on personal or workstation computers or tablets in eldercare homes, nursing homes, and even hospitals to monitor the well-being of seniors in real time.
The web app can be easily used for notifications, (such as notifying a caretaker when an elderly person falls or wanders off from a Geofenced premise), or to reach out to seniors who might need help via the speaker phone of the watch, etc.
This feature is particularly useful because it provides a second layer of protection and security by working equally well with multiple connected devices.
Smartcom's 360-degree remote monitoring ecosystem can also offer a 24/7 call center monitoring service. During an emergency when an SOS is sent to 911 or call centers, it shares the user's age, vital signs, statistics, medical conditions, medications, allergies, indoor or outdoor location, and other relevant information.
Collaborating with ODMs for Other Smart Devices
In addition to its existing PaaS and app solutions, Smartcom always collaborates with ODM/OEMs to come up with remote monitoring innovations for smart wearables. These include, but not limited to, specific sensors, smart shoe soles, smart connected patches, and other solutions targeted to help seniors with various medical conditions, such as Alzheimer/Dementia, Bradycardia, Apnea, etc.
In short, Smartcom is using the best of IoT algorithm and data to provide seamless and comprehensive all-round remote monitoring for smart wearables. The goal is to bridge the gap between devices and caregivers/first responders and make significant strides in new-age eldercare.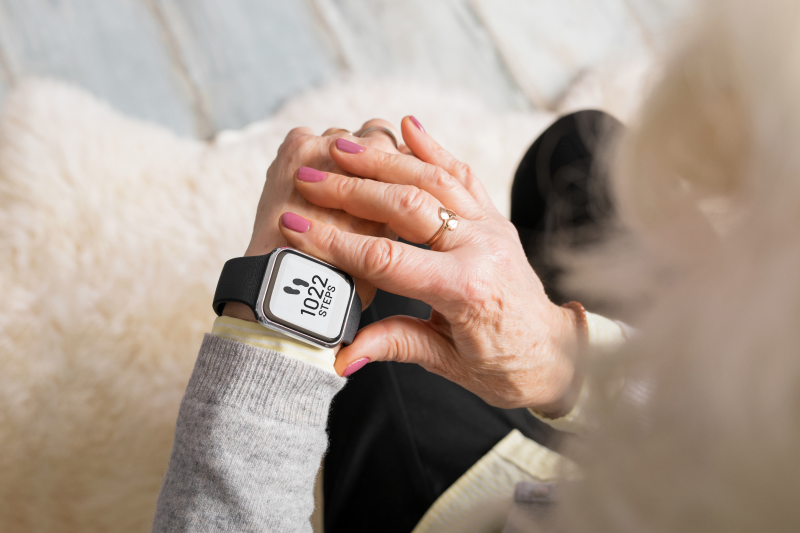 Smart Eldercare with Smartcom
Whether or not smartwatches and wearables can emerge as a foolproof alternative to Personal Emergency Response Services (PERS) remains to be seen, Smartcom is sparing no effort in building a remote-monitoring ecosystem that is not only ahead of the competition but is also highly scalable.
13% of the world population comprises people over 60 years old. This is expected to reach 16% by 2030 and 20% by 2050. Which means every 5th person in the world will be an adult/senior citizen. Hence, in the next few decades remote monitoring will become a much-needed requirement in the future of eldercare.
Our mission at Smartcom is to enhance the well-being of seniors by prioritizing their safety and quality of life. Our PaaS solutions are specifically designed to secure a better future for eldercare.
If you're a smart wearable brand, telco, or ODM/OEM looking to partner with a trustworthy telecom mobility solutions provider, Smartcom is a worthy choice.
Please visit our website to learn more about our full suite of secure services, or drop us your query. We can work in tandem with you to develop innovative solutions to help save lives and improve the quality of eldercare.